We never know what we'll see on various social media platforms thanks to the advent of globalization and the internet. As the Internet's reach has grown, many social media platforms have evolved in recent years as platforms where people can exchange various sorts of content relevant to a variety of topics.
However, the norms are changing, and social media and the rise of smartphone culture have had a significant impact on how celebrities are treated and how others obtain access to the huge platform of fame. The emergence of social media also blurs the line of accessibility between a regular person and a celebrity, allowing everyone to engage with anyone else.
This tremendously popular post is a perfect example of that. On Facebook, a page called The Burgerz posted a status update requesting a response from former cricketer Shahid Afridi.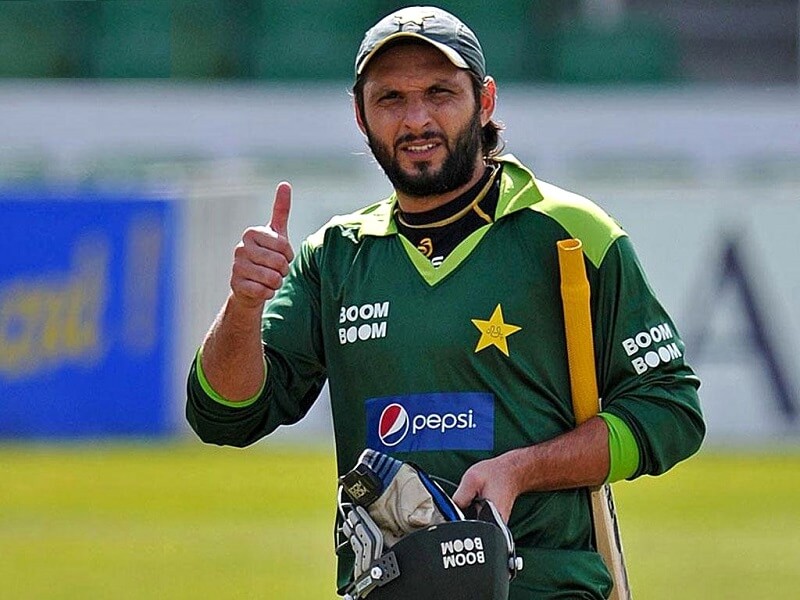 The guy was hoping for a response from Pakistan's former star cricketer Shahid Afridi and pledged that if he got one, he would stop smoking. That's right, you read that correctly!
While social media is filled with these kinds of posts where a normal person asked for a reply from any celebrity, something happened that put this post in a different way.
A page named The Burgerz shared the now-viral post on Facebook. Over the backdrop of a cricket pitch, he wrote,
"Just one reply from Shahid Afridi and I will quit smoking."
The post received over 10,000 likes and a number of comments from internet users.
What Shahid Afridi replied
At first, the post elicited a slew of responses from netizens in the comments section, saying that he is an attention seeker and Shahis will not reply to it. But soon after the post went viral, it finally got a response from Shahid Afridi. On his post, the former cricketer replied by dropping a thumbs-up emoji.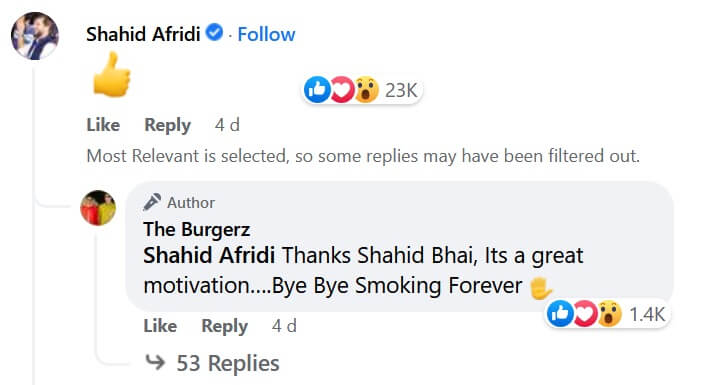 Within an hour, the comment garnered more likes than the actual post and everyone go gaga saying that Shahid Afridi is so humble when it comes to interacting with his fans on social media.
Following his response, internet users showered Shahid Afridi with affection. As one user put it,
"Sometimes I think how easy it for some people to do big things. Imagin sending just one emoji can change someone's life? But Allah give such abilities to His choosen people only. Let's use our powers to bring a good change. Thanks Shahid Afridi for giving your precious seconds."
While another user said,
"Boom Boom For a Reason!"
Some people also highlighted that the guy who got a response will actually have to leave smoking forever. A user said,
"The fact that this person now actually gotta quit it"
While another asked,
"What is the factual update about your smoking, brother?"
Responding to the same queries and appreciating what Shahid did, the guy replied,
"Thanks Shahid Bhai, Its a great motivation….Bye Bye Smoking Forever."
Talking about Shahid Afridi, he recently made news for admitting that the Board of Control for Cricket in India (BCCI) has more power in decision-making after the PCB expressed fears that a lengthier IPL will interrupt Pakistan's international games.
Afridi's remarks came a week after the IPL television rights were sold for a stunning $6.2 billion for the next five years, ranking it only second to the National Football League in terms of wealth (NFL).
The ICC has yet to weigh in on the PCB's reservations over the IPL's lengthier timeframe, so it's unclear whether they will.