Cricket is an unpredictable game, and until the final ball is played, we can never predict when the game will entirely change. Throughout the history of cricket, there have been some amazing moments as well as others that dramatically altered the game. However, there are some strange unusual incidents that have never occurred in cricket and may never occur again.
In the game of cricket, we have witnessed a few peculiar circumstances, and it is much more puzzling when they take place inside the confines of the regulations. And something like this happened recently during the third test match between New Zealand and England.
During the third test match between New Zealand and England being played at Headingley Carnegie, Henry Nicholls of New Zealand was dismissed in one of the strangest ways possible.
Henry Nicholls played a shot on a Jack Leach delivery in the 56th over of New Zealand's innings, and even though non-striker Daryl Mitchell made every effort to avoid the ball, the ball still managed to contact his bat.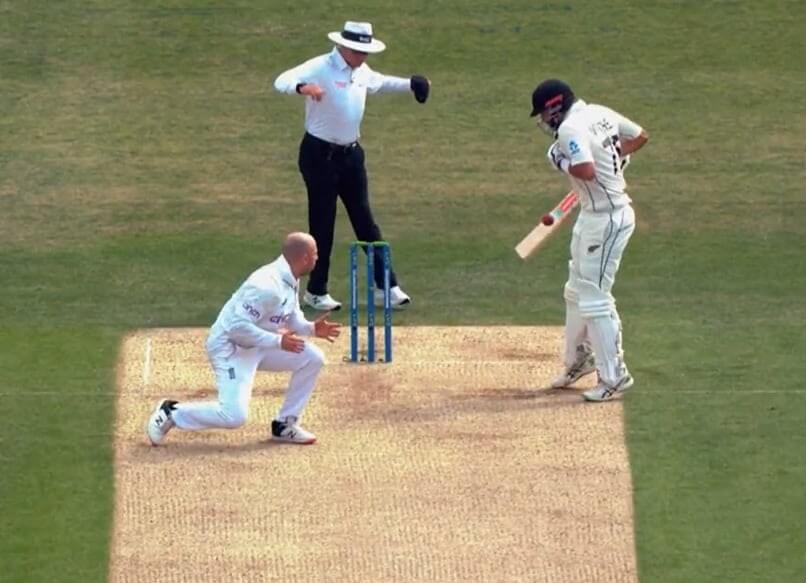 The mid-off fielder made an easy grab after the ball was deflected by the bat after it was hit. Henry was out since what he did was entirely legal according to the umpire's ruling.
The official Twitter account of England Cricket teams shared the bizarre dismissal's footage online with the following caption:
"What on earth!?"
What on earth!?

Scorecard/clips: https://t.co/AIVHwaRwQv

#ENGvNZ pic.twitter.com/yb41LrnDr9

— England Cricket (@englandcricket) June 23, 2022
In the meantime, the same video has been going viral on the internet and has received feedback from everywhere. Everyone is discussing the peculiar dismissal, including cricket players, analysts, and fans. The legendary batsman Sachin Tendulkar joined the list on Friday when he delivered an epic reaction to the trending video.
Sachin Tendulkar on Henry Nicholls dismissal
The former Indian cricketer Sachin Tendulkar, who is regarded as a legend by his followers, responded to this situation by citing the abovementioned footage of the England team's official account and said that in gully cricket, the non-striker would have been pronounced out.
In a tweet, he said,
"In gully cricket, we'd declare the non-striker out #CricketTwitter"
, ' – #CricketTwitter https://t.co/vLBl5Rd4eh

— Sachin Tendulkar (@sachin_rt) June 24, 2022
Sachin's tweet has gone viral within seconds and currently, his tweet stands at more than 25 thousand likes and more than 2 thousand retweets.
In terms of what happened in the game, New Zealand scored 329 runs in its first innings, while at the end of the second day, England had 264/6. Daryl Mitchell led New Zealand in scoring with 109 runs, and Jack Leach led England in wicket-taking with a fifer.
Jamie Overton, who is now playing at 89 runs, is providing strong assistance for Jonny Bairstow as he bats not out at 130 runs after only 121 balls (106 balls). England is presently behind by 65 runs, and because the home team has already seized a commanding 2-0 lead, they will undoubtedly look forward to sweeping the series.