India thoroughly outclassed England by 49 runs in the second T20 International to win the 3-match series with a commanding 2-0 lead on Saturday. Rohit Sharma's inspired leadership and an aggressive brand-new strategy were the key factors.
However, their triumph is not what garners more headlines. It's a chit-chat that went between Rohit Sharma and Rishabh Pant on the pitch. People are seriously going crazy about what Rishabh Pant said on the crease.
English captain Jos Buttler chose to bowl first by winning a toss against India. In his attempt to bat first, Indian captain Rohit Sharma had no issues with it. Together with Rishabh Pant, his brand-new top-order companion, he batted first. The first over was handled by David Willey, but as the pacer threw his third ball of the over, Pant encountered a small difficulty.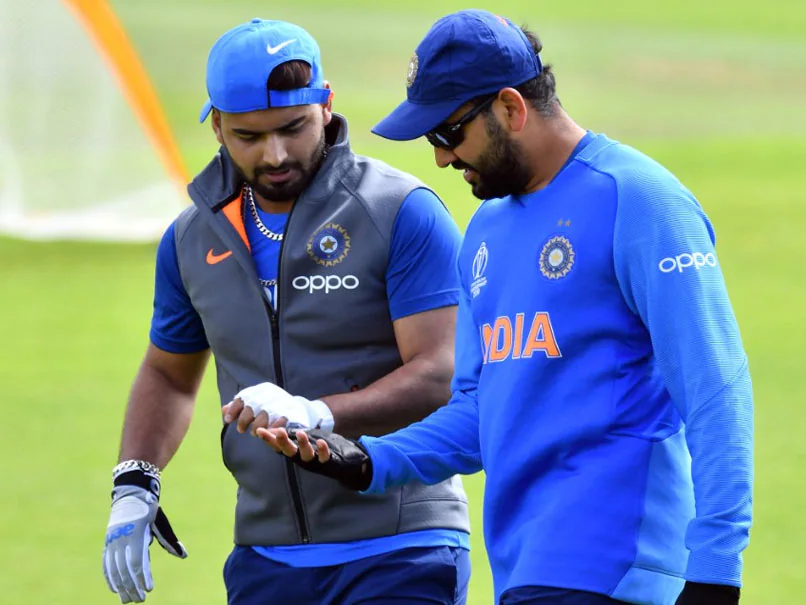 When Rohit Sharma struck a single on the second pitch, Pant went on strike. The wicketkeeper-batsman, Pant, was irritated when David Willey blocked his path after he struck the ball towards the on-side and went on to grab an easy single off the third delivery.
After finishing the run (while running), Pant was overheard saying to Sharma,
"Yeh saamne aa gaya yaar, saamne aa gaya"
In English, it loosely means that he (bowler) came in front of him (Rishabh).
After telling Rohit this, Pant asked him,
"Takkar maar du kya?"
It loosely means that should he beat him (bowler) if he gets in the way?
To which Rohit Sharma responded,
"Maarde aur kya"
It loosely means that why not, obviously hit him (bowler).
As a Twitter user uploaded the footage of the incident, the humorous exchange was captured on the stump mic
Rishabh Pant asking " takkar mardu kya" 😭😭❤️ pic.twitter.com/4I4bIEx0ZJ

— time square 🇮🇳 (@time__square) July 9, 2022

Soon after the video went viral on social media platforms, it went viral within minutes and lots of people are still garnering above mentioned tweets with likes, retweets and comments.
As soon as people saw the video on Twitter, Indian cricket fans went into meltdown because they couldn't get over Pant's humorous jab.
Have a look at how people reacted to it
Hindi might be the GOAT of languages!
Yes I am biased https://t.co/bTAdDOVU8Y

— RudiRudi ⭐⭐🇺🇲 (@crazy4cfc) July 10, 2022
rishabh pant has to be the most entertaining and hilarious cricketer we have had since some time 🤣 https://t.co/qs8uNTB0Kt

— Sambit Panda (@sambitpanda04) July 10, 2022
When delhikar and Mumbaikar plays together https://t.co/TN6eDXxkh2

— Tarun Tehri (@taruntehri) July 10, 2022
While discussing Pant's attitude, several cricket fans were brought back to a comparable occurrence featuring the former Indian captain MS Dhoni during a match against Bangladesh in August 2015.
It's interesting to note that Pant views MS Dhoni as his idol and is rumoured to be quite friendly with the present captain of the famous IPL franchise, CSK.
Have a look at them some of these kinds of reactions
Do you remember one time Dhoni had take the revenge of rohit against Bangladesh?

— ᴀʙʜɪᴊᴀy ᴄꜱᴋɪᴀɴ 💛🚩 (@kattar_cskian) July 9, 2022
Trying to be MS Dhoni? https://t.co/iOYppCYd9j

— Gogo Gyaani (@BhokalTweet) July 10, 2022
Speaking of India's innings, Sharma and Pant got things going quickly and aggressively, but they were unable to build on the momentum and lost their wickets to Richard Geeson, an English rookie.
India posted a defendable total of 170 runs and ultimately won the match thanks to a comprehensive bowling effort, despite England consistently picking off wickets at regular intervals to try to stop India's momentum.