Standing up in the face of spiteful, targeted, and frequent criticism requires a different type of courage, and few people can claim to possess it. Cyberbullying and cyber trolling have taken countless lives, whether through suicide or long-term self-esteem and depression disorders. The usage of the internet has brought with it a new set of issues. And the biggest undisputed issue is trolling.
Celebrities are the most vulnerable targets of trolls but they actually handle it as they have their PR strength and celebrity aura, But what about their family?
We haven't talked so much about how the families of celebrities are tackling this trolling. We have seen how trolls shamed Anushka Sharma by relating her presence in the match with Virat Kholi's poor performance. We have also seen how many people shamed Dhanashree when she married Yuzvendra Chahal. And now the new name that is going to add to this list is India's star bowler Jasprit Bumrah's wife Sanjana Ganesan.
Recently, Sanjana received a lot of abuse on social media after the footage of Rohit Sharma's departure from the Mumbai Indians vs Rajasthan Royals game got viral on the internet. Sanjana Ganesan, who is also a popular sports presenter along with being Jasprit Bumrah's wife, received backlash and so much abuse.
What occurred was that Rohit Sharma continued his poor form after being removed for two runs by Ravi Ashwin during the Mumbai Indians vs Rajasthan Royals game at the DY Patil Stadium in Navi Mumbai on Saturday. Rohit tried a boundary during Ashwin's spell, but Daryl Mitchell got an easy catch at backward square.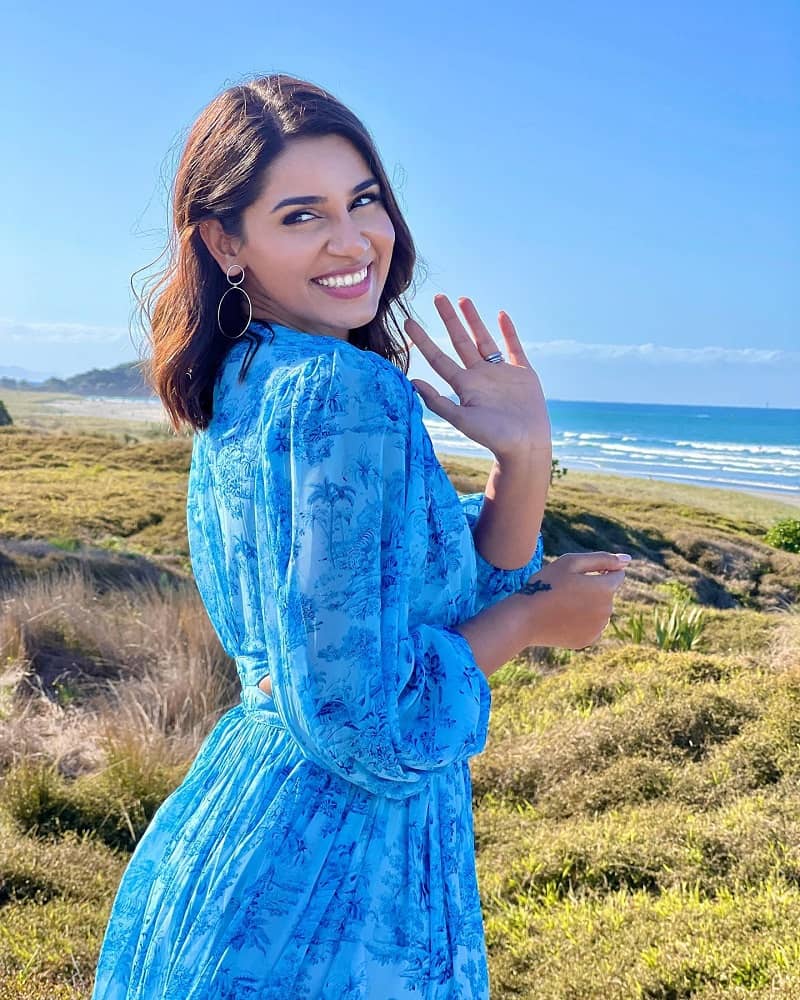 A video of Rohit Sharma's dismissal went viral on social media not because he was dismissed but for another reason. In the video, Rohit Sharma's wife, Ritika, who is in the stands, was obviously distressed when Rohit was dismissed. Prithi Ashwin, Ravi Ashwin's wife, who was also in the grandstand, walked over to hug Ritika and comfort her.
However, it was Sanjana Ganesan's reaction that drew the most attention on social media. Let me tell you if you still have not watched the video that in the video, Ganesan was plainly joyful and celebrating something. That video quickly went viral on the internet, and she was cruelly mocked on Twitter.
Sanjana? 😭 pic.twitter.com/sGVXFVH0O9

— anushka (@away_fromglory) April 30, 2022
Meanwhile, after receiving online criticism and abuse, Sanjana Ganesan resorted to social media and posted a cryptic message. Sanjana responded to people who were mocking her with a mocking tweet, saying,
"Things are seldom what they seem."
Okay? Okay. 🙏🏻 pic.twitter.com/ZEaYzpi0h2

— Sanjana Ganesan (@SanjanaGanesan) May 1, 2022
While many people are still angry with her, some people are now saying some sensible things. While we don't know why she enjoyed that moment but one person on social media hypothesized that maybe she was happy after she saw Ashwin's wife hugging Rohit's wife.
In terms of the game, experienced player Suryakumar Yadav and youthful Tilak Varma handed Mumbai Indians skipper Rohit Sharma the finest 35th birthday present ever by defeating Rajasthan Royals by five wickets on Saturday. Surya (51 off 39 balls) and Tilak (35 off 30 balls) added 81 for the third wicket as MI chased down a 159-run winning target in 19.2 overs. It was MI's first win in eight games, and while the result is of little significance, it will undoubtedly put the five-time champions in a positive frame of mind.