Veteran batsman Virender Sehwag is largely remembered for his marvelous on-field coordination, minimal foot movement, and tremendous positive instinct. However, he is also recognized for his off-the-field charismatic persona. This 43-year-old former cricket legend is making it to the headlines because of his recent witty tweet which he made over a far-right Pakistani political analyst, Zaid Hamid.
Neeraj Chopra congratulated Pakistan's Arshad Nadeem on his recent feat
Neeraj Chopra defeated Nadeem in order to claim the historic gold medal at the Tokyo Olympics 2020. However,  Arshad from Pakistan won the gold at the recent 2022 Commonwealth Games at Birmingham where he breached the 90-meter mark and became the first Asian to do so.
Sadly, Neeraj Chopra missed out on a chance to win his second gold at the CWG. The reason is, that he had to withdraw from the 2022 edition due to a groin injury.
Regardless of finishing ahead of his Pakistani counterpart in the World Athletics Championships last month, Chopra did not shy away from congratulating him on his recent historic win at Birmingham. Neeraj commented on Nameed's Instagram post saying,
"Congratulations Arshad Bhai for gold medal and crossing 90mtr with a new games record. Aage ke competitions ke liye all the best."
At the recent World Athletics Championships, Chopra won silver. At the Asian Games 2018, Chopra memorably clinched the gold medal whereas Nadeem finished as the bronze medal winner. Chopra's personal best stands at 89.94 meters while Nadeem's is now more than 90 meters.
Pakistani political analyst, Zaid Hamid got confused between Neeraj Chopra with Ashish Nehra
Zaid Hamid had tweeted applauding Pakistan javelin thrower and Commonwealth Games 2022 gold medallist Arshad Nadeem. But what made his tweet confusing yet funny was when he mentioned Nadeem beat Indian javelin thrower, Ashish Nehra!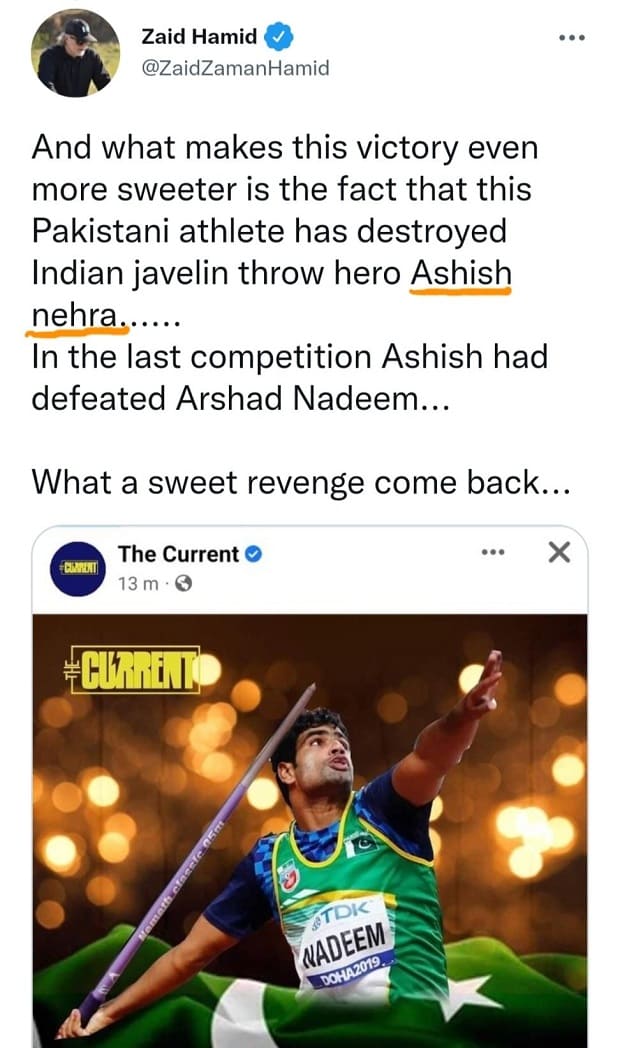 Virender Sehwag mocked Zaid Hamid for the huge mistake in his tweet
On August 11, Virender Sehwag broke the internet when he, in a witty manner, lashed out at Pakistani Political analyst, Zaid Hamid for confusing former India pacer Ashish Nehra with India's pride and Tokyo Olympics gold medallist for Javelin throw, Neeraj Chopra.
Sehwag tweeted,
"Chicha, Ashish Nehra is right now preparing for UK Prime Minister Elections. So Chill"
Chicha, Ashish Nehra is right now preparing for UK Prime Minister Elections. So Chill 🤣 pic.twitter.com/yaiUKxlB1Z

— Virender Sehwag (@virendersehwag) August 11, 2022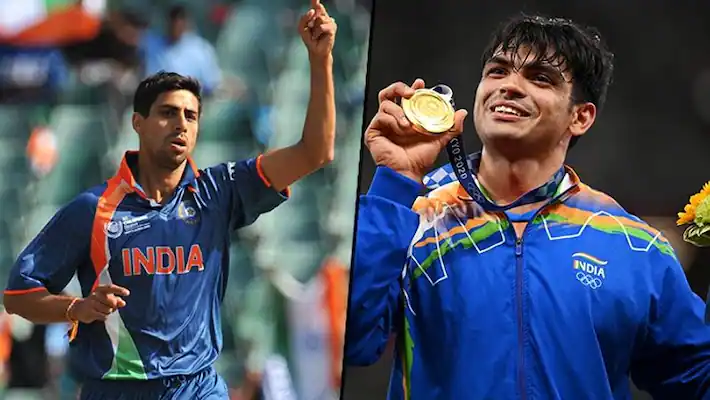 Both these javelin stars have performed many a time against one another and they claim that they compete against each other with the highest admiration and respect for one another.