Cricketers are always be recognised for their on-field performance. Their primary responsibility is to perform for their team and give their all on the pitch. Having said that, a few cricketers are regarded as role models and worshipped by a large number of followers. It is more prevalent in India-like countries where cricket is preached like a religion.
Print and internet media have had a significant impact on cricket in the twenty-first century. Cricketers may now express themselves on any platform, and fans can also cheer for their idols. It has undoubtedly brought the game's spectators closer to the action. It will also play an increasingly vital and crucial part in the expansion of the sport in the next years.
Not only do fans watch the athletes these days, but so do journalists who wish to analyse them in order to provide new material. They also look over the bios of cricketers to come up with storylines. Many players have gotten themselves into problems as a result of their words in such situations.
As heroes and role models, we should expect them to be pleasant and not have a negative impact on others. They are kind of like influencers who influence society. But many cricketers, on the other hand, have forgotten that they are public personalities and have made arrogant utterances. Controversy is often sparked by arrogant words.
Many world-class players and absolute legends of the game have gone on to make that kind of comment that we don't want to hear from them, which is disturbing. So, who are the cricketers who have made controversial utterances that may have been avoided?
Let's take a glance at the list:
1. Sourav Ganguly's remark on spouses and girlfriends, claiming that they stress men's life.
"There is no stress in life. Only wife and girlfriend give stress."
Men still laugh at these?🤮 https://t.co/JZnZGWPkyX

— Parvathi Bindu Benu (@ParBen24) December 20, 2021
2. The casual sexism of Virender Sehwag was clearly apparent in his tweet from the 2018 IPL auction. He tweeted,
"Ladkiyon ko shopping ka shock hota hai. Preity full on shopping ke mood mein hain. Har cheez khareedni hai"
Ladkiyon ko shopping ka shock hota hai. Preity full on shopping ke mood mein hain. Har cheez khareedni hai

— Virender Sehwag (@virendersehwag) January 27, 2018
3. When Gautam Gambhir stated that if Delhi's pollution problems are solved, he will stop eating jalebis.
Obviously, he completely missed the purpose. On the day he was due to attend a conference about Delhi pollution, photos of him enjoying jalebis in Indore appeared. As a result, many people questioned his integrity as a legislator. If there was any explanation, he could have come and provided it, but there wasn't.
#WATCH: Gautam Gambhir, BJP MP says."Agar mera jalebi khane se Delhi ka pollution badha hai, toh main hamesha ke liye jalebi chhod sakta hoon…10 minute mein mujhe troll karna shuru kar diya, agar itni mehnat Delhi ki pollution ko kam karne mein ki hoti toh hum saas le pate." pic.twitter.com/K2oW5qokht

— ANI (@ANI) November 18, 2019
4. Navjot Singh Sidhu's remarks were frequently misogynistic and derogatory to women.
For example, he once stated:
"Gend itni oonchi gayi ki woh air hostess ki chummi le kar aa gayi."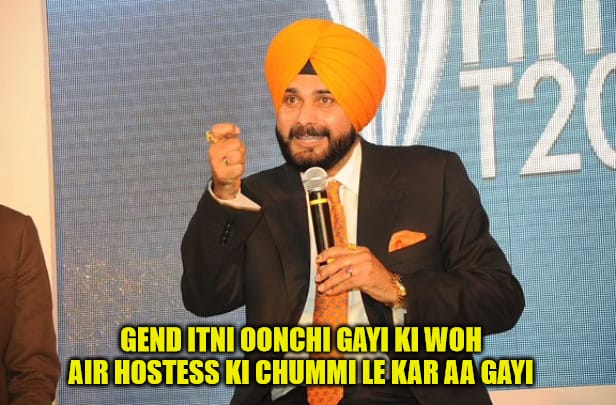 5. Sunil Gavaskar said it was only right to pull Anushka Sharma into the controversy after Virat Kohli made a terrible shot.
He spoke behind the commentary mic:
"Inhone lockdown mein toh bas Anushka ki gendon ki practice ki hai."
With this Instagram story, Anushka reacted to the same.
It's shameful what Sunil Gavaskar commnted on Virat and Anushka's personal life. A player always has good days and bad days and yesterday was just a bad one which obviously doesn't give anyone the right to comment on any player's personal life @imVkohli @AnushkaSharma

— Samriddhi (@Samridd46288784) September 25, 2020
6. Shane Warne crossed all the boundaries when he labelled Ravi Ashwin "disgraceful" for taking a run.
The world shouldn't be divided on this topic and Ashwin. It's pretty simple – it's disgraceful & should never happen. Why does Ashwin have to be that guy again ? I think @Eoin16 had every right to nail him !!!! https://t.co/C2g5wYjeT6

— Shane Warne (@ShaneWarne) September 29, 2021
This is how Ashwin replied to the allegations:
1. I turned to run the moment I saw the fielder throw and dint know the ball had hit Rishabh.
2. Will I run if I see it!?
Of course I will and I am allowed to.
3. Am I a disgrace like Morgan said I was?
Of course NOT.

— Ashwin 🇮🇳 (@ashwinravi99) September 30, 2021
7. Virat Kohli had an embarrassing moment when he said,
"Don't live in India if you don't like Indian batsmen."
8. On Koffee With Karan, Hardik Pandya made several questionable statements and displayed toxic masculinity.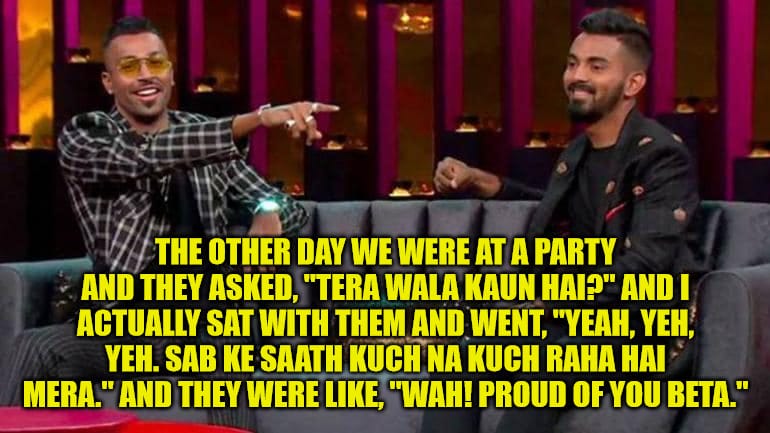 However, after a public outcry, he apologised for his remarks.
View this post on Instagram
9. When Shoaib Akhtar stated that Sachin Tendulkar and Rahul Dravid aren't match-winners.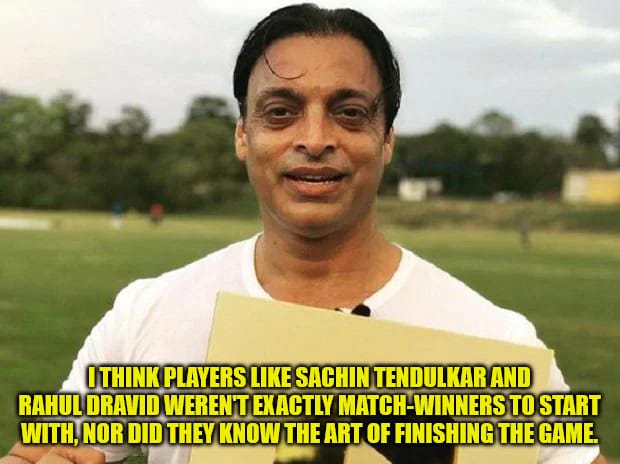 10. Chris Gayle picked these phrases to show his rage during a fight with Ramnaresh Sarwan in 2020.